SYDNEY | MELBOURNE | ADELAIDE | BRISBANE | PERTH | AUSTRALIA-WIDE
RTO Recruitment Agency – VET Industry Specific Recruitment!
360RTO Solutions is a Specialist RTO Recruitment Agency, recruiting exclusively for Registered Training Organisations in the Australian Vocational Education and Training industry. We help Australian RTOs find qualified, experienced staff to fill critical positions including:
VET Coordinators
Training Coordinators
Compliance Managers
RTO Managers
Trainers & Assessors
Administration & Operations Officers
CEO & Other Executive Positions
Call 1300 657 511 now for RTO Recruitment Pricing and Packages!
You can also click Enquire Now to get in touch.
Why use 360RTO's RTO Recruitment Service?
RTO recruitment is a difficult, time consuming process… and getting the 'wrong' person is costly.
Busy managers of small and medium RTOs have inadequate time to properly screen and interview job candidates to find the 'right' person for the job, leading to severe disruption and critical non-compliance in their RTO. The dedicated HR departments and recruitment tools employed by big organisations to find and recruit the top job candidates are simply out of reach for most small and medium RTOs – meaning you immediately start at a disadvantage when competing for the best talent for your RTO. Furthermore, "generic" recruitment agencies don't have the detailed knowledge of our VET industry to properly assess candidate skills and knowledge – leading to poor recommendations and 'bad' hires.
That's why 360RTO Solutions RTO-specific recruitment service is so valuable – our RTO recruitment experts have specific, in-depth knowledge of the RTO industry – and know what knowledge and competencies candidates need to effectively operate your RTO and maintain compliance. As an additional service, 360RTO will provide you with access to RTO-specific recruitment expertise and tools tailored to the RTO industry, that are normally accessible only to huge organisations.
Our targeted recruitment process enables you to hire great people who stay longer and add value to your team. Services available include:
Identifying the critical competencies required for the job to create custom job briefs and attract the right candidates for your role
Effective advertising on your behalf that directly saves you up to $300 in job advertising fees
Access to high level tools for human resources testing and vetting to ensure only high-performing candidates with the right skill sets reach you
Expert recruiters to screen candidates, conduct initial interviews, and create shortlists with the top tier candidates ready for your selection
Structured interview guides to help you run great job interviews for any role in your RTO
Model answers based on the latest Standards for RTOs 2015 to properly assess your candidate's knowledge
Employee on-boarding to minimise any hassle on your part
Enquire now for complete information on all 360RTO recruitment services and packages!
Call 1300 657 511 now for RTO Recruitment Pricing and Packages!
You can also click Enquire Now to get in touch.
RTO Recruitment Solutions for your RTO
Save yourself time and money and leave the hiring to our RTO recruitment agents and our tried and tested processes. The package that best meets the staffing needs of your RTO is below: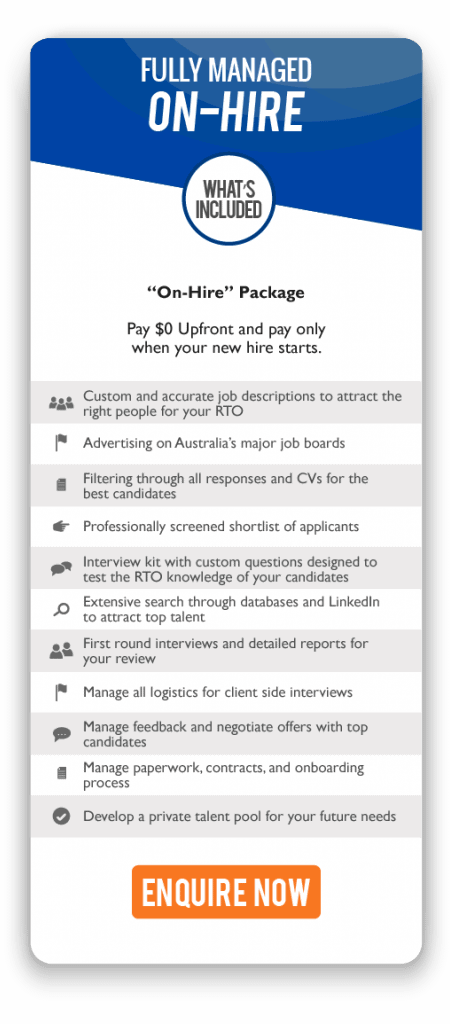 Fully Managed Package – On-Hire Package
Pay $0 Upfront
Pay only upon a successful hire
Get the complete recruitment solution from start to finish, while saving your RTO countless days, money, and headaches today and in the future. We will:
Create unique and effective job descriptions – job descriptions that focus only skills and specific experience rarely attract high performing candidates. To help you attract the best, our expert recruits will develop targeted descriptions that highlight exactly what your new hire will achieve to be successful.
Publish attention-grabbing ads in the major job boards in Australia
Filter all candidates to save you countless hours reading through potentially hundreds of CVs everyday
Provide you a custom short list with high performing candidates that match your criteria
Provide a custom interview kit with RTO-specific questions to help you ensure your candidates know the ins and outs of the VET industry
Search for the top talent in the industry for your role through databases and platforms for current professionals including LinkedIn, the Seek database, and Social
Conduct first round interviews to further ensure so you can focus on only the highest performing candidates
Create detailed interview reports to help you assess the strengths of each candidate
Conduct employee on-boarding to ensure the best start for your new hire
Organise all logistics and client side interviews
Manage feedback and offer negotiations with the top candidates
Manage all hiring paperwork and contracts
Develop a private talent pool of RTO professionals to help you recruit for more roles for your growing RTO
Call 1300 657 511 now for RTO Recruitment Pricing and Packages!
You can also click Enquire Now to get in touch.
360RTO provides recruitment packages to RTOs in Sydney, Melbourne, Brisbane, Perth, Adelaide, and Australia-wide. Contact us today at 1300 657 511 or send us an enquiry now to know more!