"ASQA does not provide consultancy services. As the regulator, ASQA cannot teach applicants specifically how to comply with the standards."
For many years, RTO operators and VET professionals have just accepted this statement from ASQA, and fair enough.  They are a regulator – not a consultant, right?  We get that..
Many years after ASQA's formation, the RTO sector has come to accept this too.  After all, this has always been ASQA's approach when an engaged and ethical RTO owner calls them for advice – seeking guidance to ensure they are doing things correctly.
Because of this "it's up to you to interpret the standards" approach, some RTO owners may have felt forced for many years to take a 'trial and error' approach to running their RTOs.
As a result, rectifications have indirectly become RTOs' main source of guidance to understanding regulatory requirements— instead of a proactive or practical approach that allowed RTOs room to learn and adapt.
The problem does not necessarily lie within this approach; but combined with ASQA's increasing  punitive actions whilst implementing its regulatory activities – the stakes are now higher than ever before for RTOs.
Once again, 360RTO and myself fully support regulation, and its intention to lift the standard of the VET system in Australia. The problem lies in how we go about this..
This lack of clear, fair guidance by ASQA is now becoming increasingly unsustainable for the private VET sector.  It is now costing many RTOs and their owners their entire livelihood, ruining the lives of ethical operators, and putting their entire financial future at stake.
Now that our national VET regulator has gone "super-cop", with unquestionable powers to make decisions that will have ramifications for the rest of people's lives,  failing to interpret the National Standards the same way that the "next auditor" will – may cost them their livelihood.
'If you think it means that, then that's what it means' –ASQA
As a testament to Mr. Laming's controversial speech a few weeks ago, the above is the advice one of our clients got from ASQA when he asked them a question, seeking confirmation about training delivery requirements according to the National Code.
Basically, the ASQA representative just read back the related clause to the client, and reportedly advised that it is "whatever he thinks it means".  He relayed that no attempt was made to give the RTO clarity or confidence to know whether their delivery approach would meet regulatory requirements.
In today's environment, where ASQA can be extremely harsh in its "judge, jury, and executioner" role – if this RTO interprets the code differently to the way ASQA's next auditor does – their entire organisation is at stake.
This client, and many like him who call ASQA every day, wanting to ensure they are acting in accordance with National Standards – may often feel forced to rely solely on 'their instincts' and advice from their staff —a potentially risky (and for some, terrifying) approach to running any business.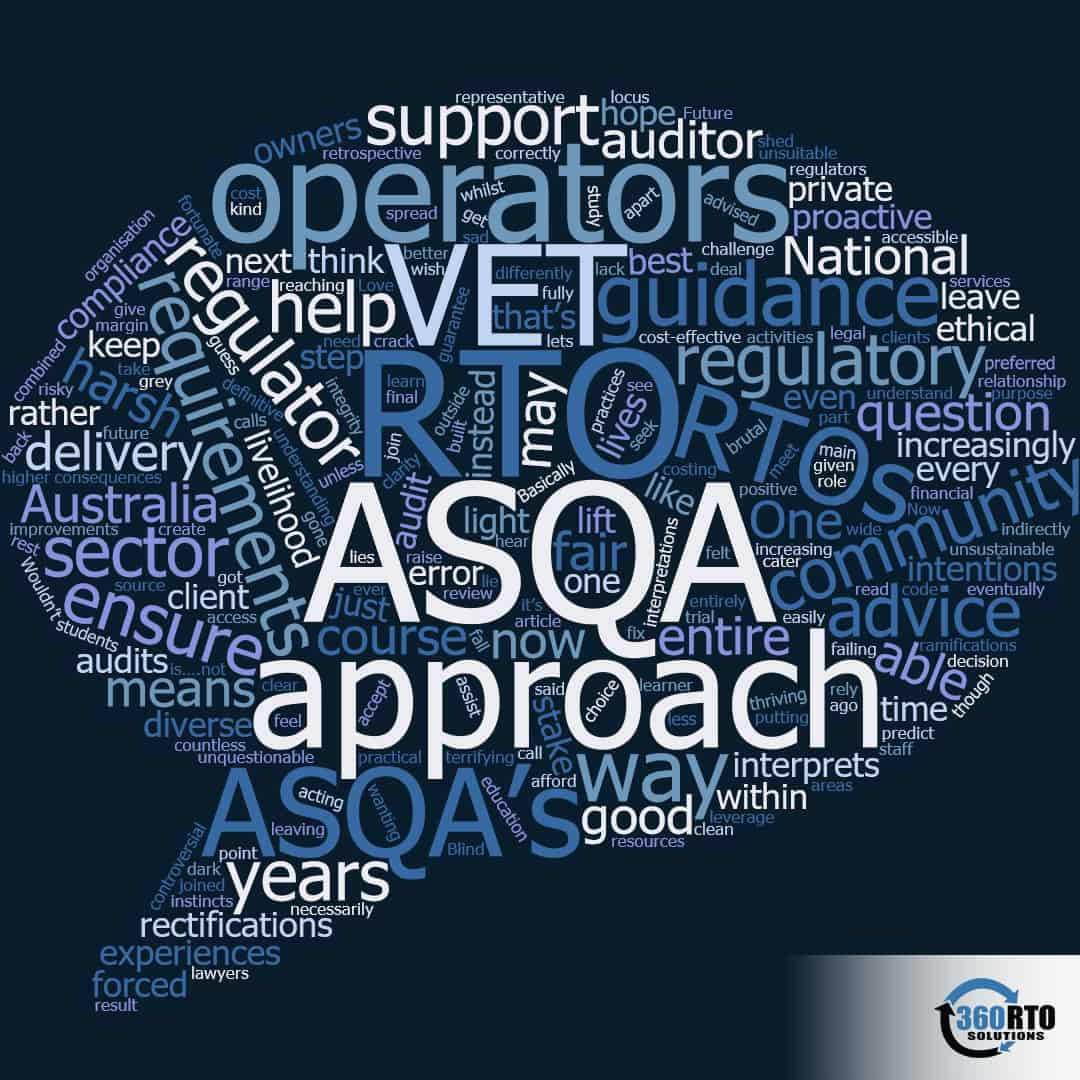 As RTO consultants, we are all 100% in support of ASQA's intended purpose of helping raise the quality of the VET sector in Australia.  Of course,  it makes sense to eliminate unethical providers, and ensure the integrity of the VET industry by favouring legitimate RTO operators, with good intentions and best practices.
That said, when support from regulators is lacking – and harsh decisions to good operators are final (unless you wish to challenge them in a legal setting), the relationship between the regulator and RTO operators can easily fall apart.  This could eventually leave students with severely impoverished choices when choosing whom to study with, and even leave them in an educational setting entirely unsuitable for their needs.
The other choice of course is for RTOs to seek advice from RTO consultants like us.  The sad part is….not all RTOs can afford consultants or lawyers to provide more definitive interpretations of the Standards for them – or to fix the consequences of their well-intentioned guesswork.
As RTO consultants, we deal with ASQA every day in some way or another.  As such, we are fortunate to be able to leverage knowledge built up from countless RTOs and regulatory audits over many years, to be able to understand the way ASQA (or a given auditor) interprets the requirements for audits and rectifications.
Likewise, as RTO consultants – we can predict, with a reasonable margin of error, how ASQA will review evidence documents in an audit.   Of course, not even the most experienced consultants can 100% guarantee audit outcomes because the ultimate decision is outside their locus of control—but that's not the point…
The question is – how can smaller, newer RTO operators with less experience and resources stand a chance against ASQA's increasingly brutal, ongoing 'crackdown' on RTO compliance – without being able to access cost-effective, accessible guidance?
Perhaps it is time for ASQA to "step up", rather than only "crack down" on RTOs – and to assist their stakeholders to help ensure a healthy, diverse, and thriving private VET industry, with a wide range of choices and delivery options to cater for our diverse learner landscape?
Perhaps this is the time for ASQA to "step up", and be kind, fair and reasonable in their approach to RTO operators with good intentions – and rather than leaving them in the dark,  help to spread some light?
Until then, I guess the best way you and I can help shed some light to compliance "grey areas", is to be pro-active in sharing our experiences within the RTO community. As consultants and RTOs, lets keep sharing our experiences, so our community can be guided by our collective experience.
One day though, we hope that ASQA too will join our community.  We hope ASQA will continue their mission to keep our sector clean, but instead of choosing harsh, retrospective punishments as their preferred instrument – helping RTOs by taking a proactive approach with better education and guidance when stakeholders need it.
One day..  maybe one day ASQA will choose to help and "lift up" RTOs and VET quality in Australia – not by battering well-intentioned RTO operators down,  but by "reaching out"..
Wouldn't it be AMAZING if ASQA joined the VET community, and helped us create the positive changes and improvements they wanted to see?
One day…
So what did you think of this article?  Love to hear your views below!